Parameters considered here are used to identify Fax Voip FSP in the process of interaction with other elements of SIP or H.323 network. These parameters allow to inform other party about the program or equipment used by the user.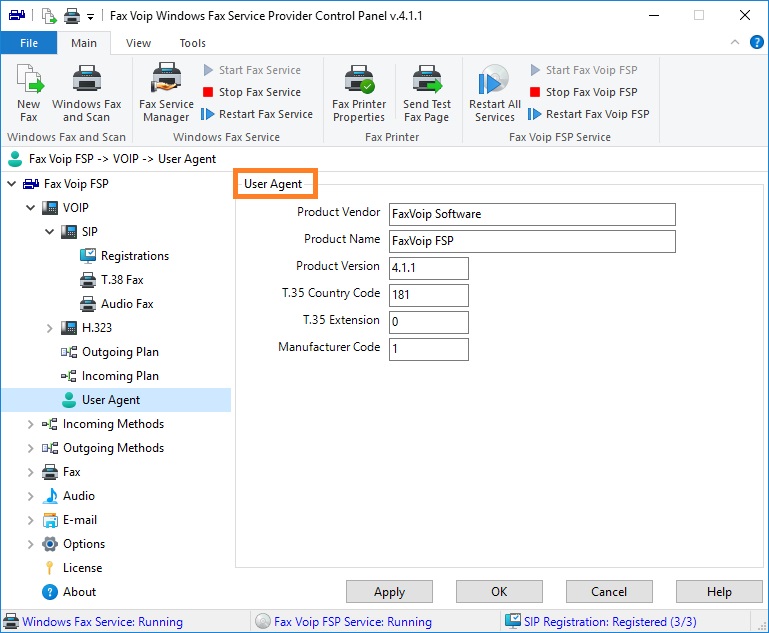 Product Vendor
Information about the vendor of SIP or H.323 software or hardware. By default FaxVoip Software vendor is reported.
Product Name
Information about the name of equipment or software used by user. By default FaxVoip FSP product name is reported.
Product Version
Information about the version of product. By default current version of Fax Voip FSP is reported.
T.35 Country Code
The T.35 Country Code identifies the country where the software or hardware manufacturer is located. By default 181 (United States) code is used.
T.35 Extension
The T.35 Extension is used in order to accommodate additional country codes. By default 0 is used.
Manufacturer Code
The Manufacturer Code identifies the manufacturer within the country. By default 1 is used.
The table below shows how these options are used:
SIP / H.323

Field

Value

Default Value

SIP

User-Agent:

<Product Name> + <Product Version>

FaxVoip FSP 4.2.1

Organization:

<Product Vendor>

FaxVoip Software

Session Name (s):

<Product Name> + <Product Version>

FaxVoip FSP 4.2.1

H.323

productID:

<Product Vendor> + <Product Name>

FaxVoip Software FaxVoip FSP

versionID:

<Product Version>

4.2.1

t35CountryCode:

<T.35 Country Code>

United States (181)

T35Extension:

<T.35 Extension>

0

manufacturerCode

<Manufacturer Code>

1