When the Fax Voip FSP is running, its icon is placed in the system tray.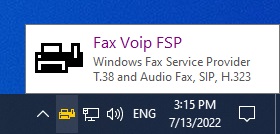 To access the Fax Voip FSP menu, right-click the Fax Voip FSP icon in your system tray and the following pop-up menu appears: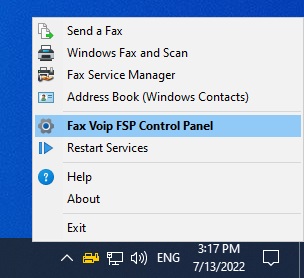 The following commands are available in the menu:
Send a Fax
Click to create a new fax to be sent to one or more recipients. Any printable document can be sent as a fax.
Windows Fax and Scan
Click to launch Windows Fax and Scan application.
Fax Service Manager
Click to start Microsoft Fax Service Manager. This option is only available on server operating systems, such as Windows Server 2022.
Address Book (Windows Contacts)
Click to open Address Book (Windows Contacts).
Fax Voip FSP Control Panel
Click to open Fax Voip FSP Control Panel. Alternatively, you can double click the icon in the tray.
Restart Services
Click to restart both Windows Fax Service and Fax Voip FSP Service. This command also restarts Mail to Fax and Delivery Receipts system (Fax Voip FSP Mail Service).
Help
Click to open Help file.
About
Display program information, version number and copyright.
Exit
Click to quit the Fax Voip FSP Manager.