Adobe Portable Document Format (PDF) is one of the most popular formats when working with faxes. Therefore, we have to consider this topic separately. When using Mail to Fax feature, two different methods can be used, when preparing the fax from the original PDF document:
Direct Converting to Fax

of your PDF document (recommended)

Printing the original PDF document (

printto

function) using standard

Fax

printer included in

Windows Fax Service

.
To use Direct Converting to Fax (recommended)
1. Open Fax Voip FSP Control Panel.
2. Click Fax in TreeView, then click Fax Converter.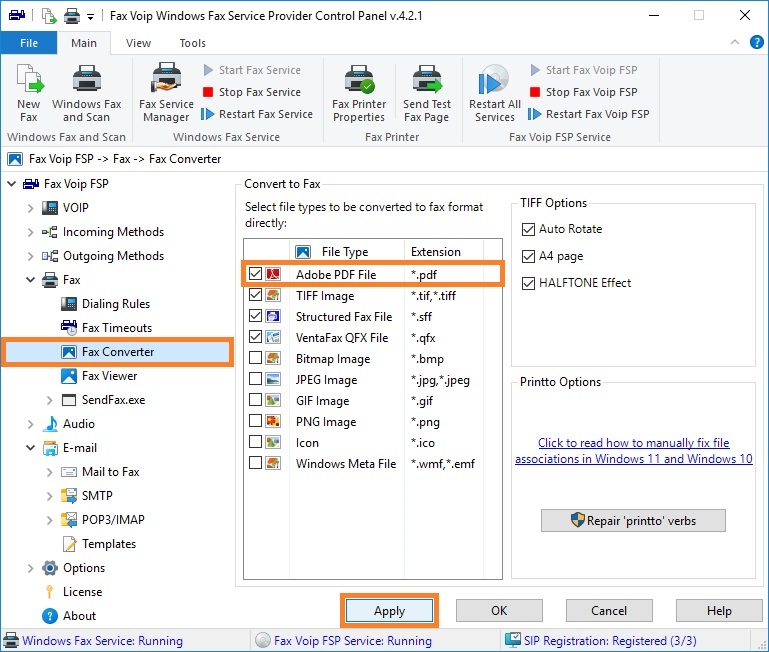 3. In the Select file types to be converted to fax format directly list, select the check box next to the Adobe PDF file type, to use direct converting for PDF files.
4. Click <Apply> button. All the changes are applied immediately.
To print PDF files using printto
If Direct Converting to Fax is disabled for PDF files, Fax Voip FSP automatically prints PDF file using the standard program specified on your system for viewing and printing PDF files. Usually it is Adobe Acrobat Reader. Since version 8 of the Adobe Reader it has changed behavior when used to print PDF documents automatically. It will no longer close itself after being called using ShellExecute(printto, ...) API function. In this situation, PDF files can not be used as e-mail attachments.
Nevertheless, there is a solution to this issue. More information can be found at http://www.biopdf.com/:
http://www.biopdf.com/acrowrap/close_adobe_reader.php
You need to download and install Acrobat Wrapper. In this case the Adobe Reader will be closed correctly after "printing".
If you use Adobe Reader with Mail to Fax function for processing mails with PDF attachments, the following should be taken into account:
To automatically close PDF files after printing, the last version of

Acrobat Wrapper

should be installed

after

the installation of

Adobe Reader

.

The last

Adobe Reader

versions tested with current version of

Acrobat Wrapper

are

Adobe Reader X version 11.0.23

and

Adobe Reader DC 2022.003.20322

.

After any updates of

Adobe Reader

you must to reinstall

Acrobat Wrapper

. In this regard, it is desirable to disable the automatic update of

Adobe Reader

.

The described method does not work in the case of

configuring Mail to Fax as Windows Service

regardless of the version of

Adobe Reader

and

Acrobat Wrapper

.
To download and install Adobe Reader do the following:
1. Go to this web page at adobe site: Download new and previous versions of Adobe Reader .
2. Select the operation system and the language. In the Select a version field select Reader 11.0.XX English for Windows or Reader DC 2022.X.X English for Windows. We recommend you to uncheck McAfee and Chrome Extension options, not clear if you need them.
3. Click Download Acrobat Reader button and follow the installation instructions.
Notes
All the problems associated with 'print PDF files using printto' feature can not be considered as errors in the Fax Voip FSP software. The recommendations in this chapter are provided 'AS IS' and any claims relating to this function are not considered by our support team.

To resolve problems arising as a result of failed tests, follow the instructions in the

Mail to Fax Troubleshooting

chapter of this user manual.