You can install, uninstall or reinstall the modem drivers without changing the current configuration of Virtual COM Ports.
1. Open Fax Voip Control Panel.
2. Click Ports and Modems in TreeView, then click <Modems> button.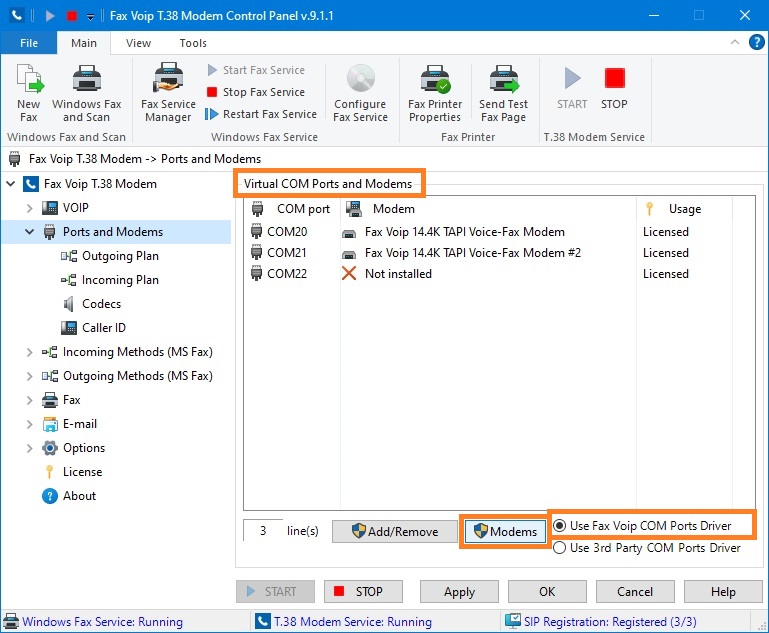 3. In the warning dialog click <Yes> to stop Fax Voip Service (Fax Voip application).

4.

To install new modems or reinstall modem drivers, in the Configuring Modems dialog select COM ports for which you want to install or reinstall modems, then click <Install Modem> button. To delete modems, select COM ports for which you want to delete modems, then click <Remove Modem> button. To change modems configuration, administrator privileges are required.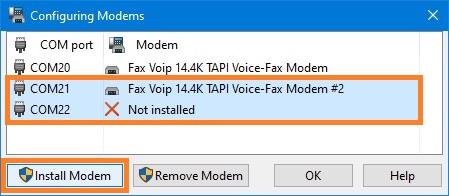 5. In the Modem Installing dialog box click <OK> to confirm modems installation/deletion.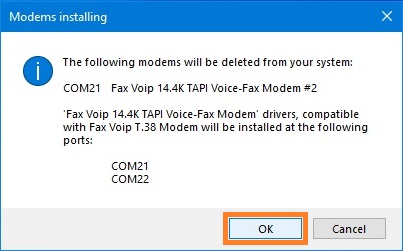 6. The wizard will automatically install the Fax Voip 14.4K TAPI Voice-Fax Modem driver for each selected COM port. The standard Unimodem Full-Duplex Audio Device driver is automatically installed by Windows when installing modem driver. The Phone and Modem dialog appears for information purposes only.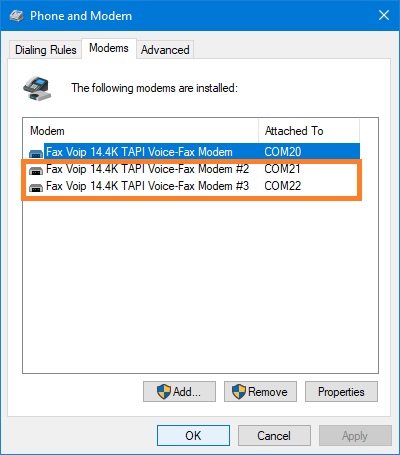 7. After finishing of installation, Fax Voip displays an updated list of Modems. Click <OK> button to close Configuring Modems window.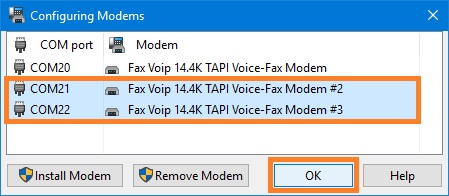 8. At the final step, Fax Voip displays an updated list of Virtual COM Ports and Modems, and shows the restart your computer dialog.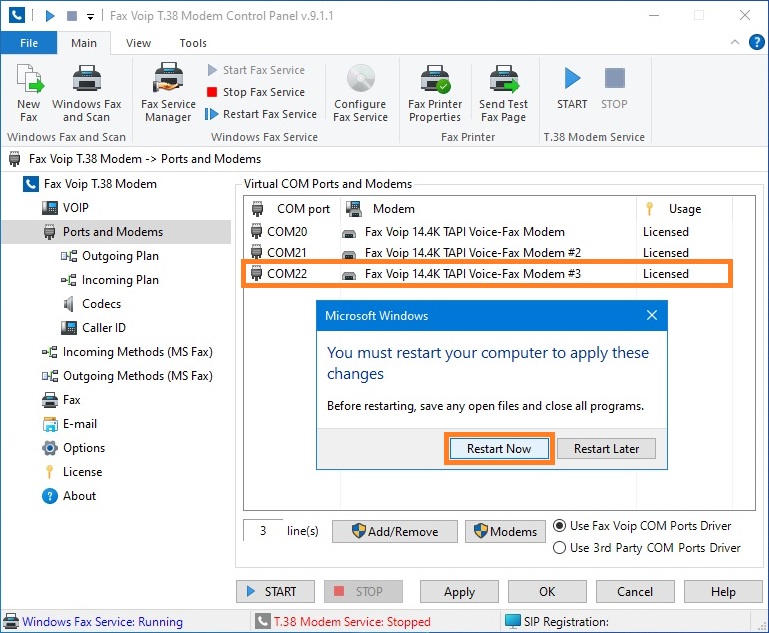 9. Click <Restart Now> button to reboot the computer.
Notes
Fax Voip installs

Fax Voip 14.4K TAPI Voice-Fax Modem

driver for modems. Compared with the standard modem driver, this driver provides support for

Caller ID Number

and

Caller ID Name

. Starting with version 7.1.1

Voice Commands

are supported by the Fax Voip modem driver via TAPI and not only in the passthrough mode as it was in the previous versions. To add modems using

Phone and Modems

option

in the

Windows Control Panel

not recommended.

Note that starting with version 6.5.1 Fax Voip no longer updates drivers for previously installed modems.

Rebooting the operating system after changing the configuration of modems is not always necessary. Nevertheless, it is not recommended to ignore this step, because some programs may not properly interact with the modem drivers immediately after installation.