Fax Voip Softphone Core Features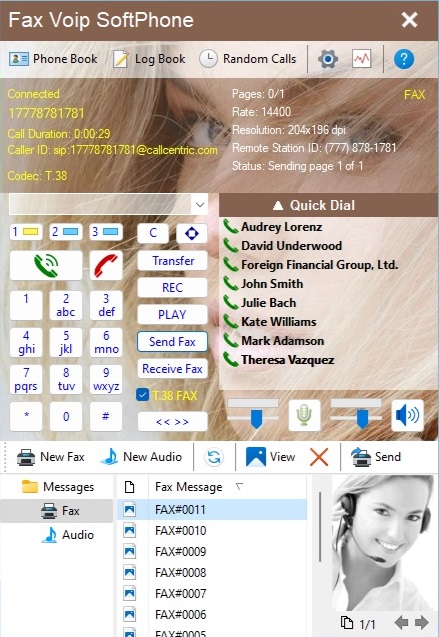 1

T.38 and Audio Faxes over VoIP (SIP, H.323)

Both T.38 and Fax over G.711 codec are supported. Flexible T.38 settings. Automatic fax sending and reception. Voice announcement before fax sending. Switching to fax mode when voice call is established. Automatic fax detection. Fax Soft Virtual Printer.
2

Call Recording and Sending Audio Messages

Automatic or manual call recording. Sending audio message with dialing number. Sending audio message when voice call is established. Listening to a telephone line when playing an audio message. Create Audio Message Wizard.
3

Log Book and Phone Book

The Log Book keeps information about all incoming and outgoing phone calls as well as outgoing and received faxes, call recording and outgoing audio messages. Use Log Book to view your faxes and to listen to call recording. Use the Phone Book to store your contacts.
4

Random Phone Calls

Random Phone Calls function allows you to automatically make repetitive phone calls to one or more target phone numbers with possibility to play audio messages into the telephone line, as well as to record phone calls. Can be useful for your business.
Fax Voip Softphone Features & Technologies
SIP
Session Initiation Protocol (SIP) is the most commonly used VoIP signalling protocol. Fax Voip Softphone can be configured as standard SIP client. Multiple SIP registrations are supported.
H.323
H.323 is one of the standards used in VoIP. Fax Voip Softphone is able to operate as independent H.323 endpoint or can register with H.323 gatekeeper (GK).
Making Voice Calls
You can make voice calls via VoIP using 3 Fax Voip Softphone lines. An active call can be placed on hold. With Music On Hold function, you can play music when your callers are on hold.
T.38 Fax
T.38 - the most reliable standard used to transmit faxes over VoIP in real time. Isolates from the delays, timing jitter, and packet loss experienced in VoIP networks.
Fax over G.711 codec
Transmitting a fax over voice codec. Can be used with VoIP providers that don't support T.38 but provide good-quality voice channel.
Fax Soft Printer
Using Fax Soft Virtual Printer, you can create a fax from any Windows application. Some file formats (PDF, TIFF, JPEG) can be converted into fax directly.
Call Recording
With Call Recording function you can record your telephone conversations over VoIP. Call recording can be started or stopped at any time.
Playing audio files
Softphone can play audio files into the telephone line. You can send audio message with dialing number or when voice call is already established.
Call Transfer
Call Forwarding and Call Transfer features allows you to redirect an incoming or existing telephone call to another destination. Both standard and Hairpin (2 call legs) mechanisms are supported.
Eric Coward
Using Fax Voip Softphone saves me lots of time and money. I can easily send T.38 faxes from my laptop using my SIP phone line. With this software I can record an important telephone conversations. Thank you for your softphone.
Federico Centonze
The software provides a user-friendly working environment. I have tried many VoIP softphones, but none of them has such great features. And the opportunity to play any voice file into the telephone line - it's great. Excellent work!
David Andersson
I just downloaded a 15 day trial from your web site. It took 5 minutes to set it with my SIP provider. Seems like a great program. I have tried three other softphones and have had bad results. I can even replace the background image of my choice. Very impressed.
Fax Voip Softphone Screenshots
Full screen
Fax Voip Softphone
Send a Fax
Send Audio Message
Log Book
Phone Book
Random Calls Monitor
Create a Fax
Create Audio Message
Control Panel
SIP Registration
Registration with H.323 GK
Outgoing VOIP Call Routing
Incoming VOIP Call Routing
Call Forwarding and Transfer
Call Recording and Playback
Fax Settings
T.38 Settings
User Interface
Random Phone Calls